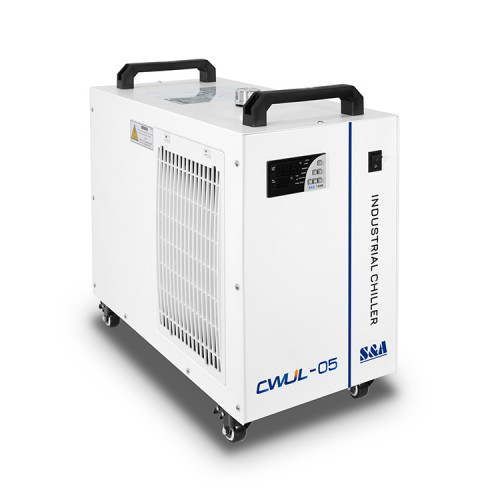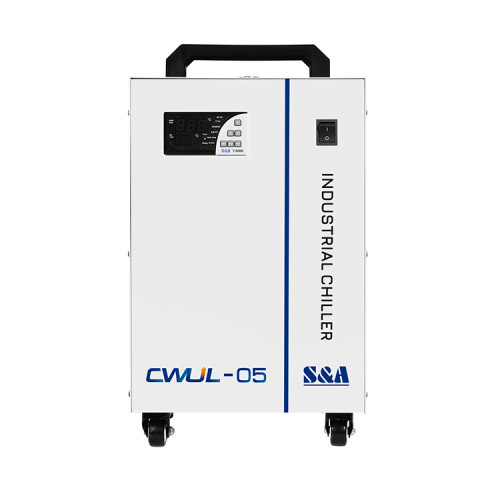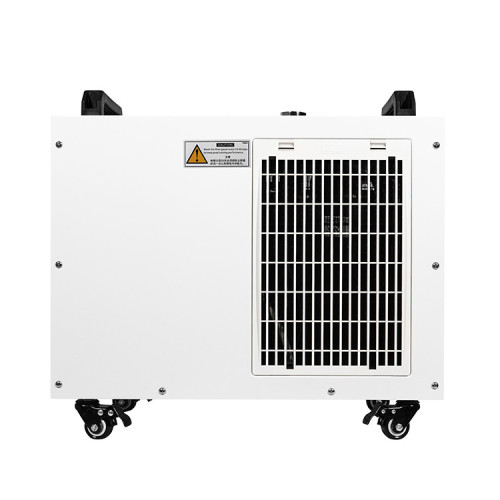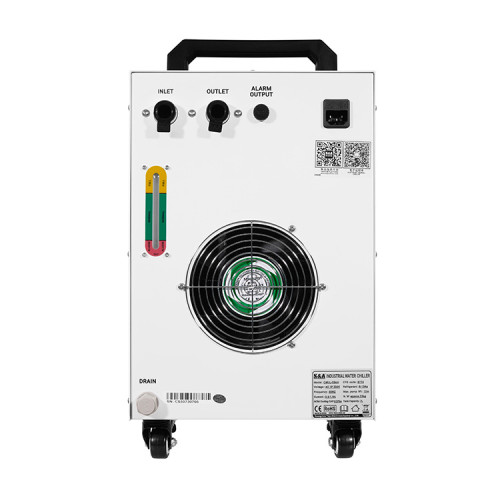 3W 5W UV laser water chiller
Model

CWUL-05 Industrial Chiller
Description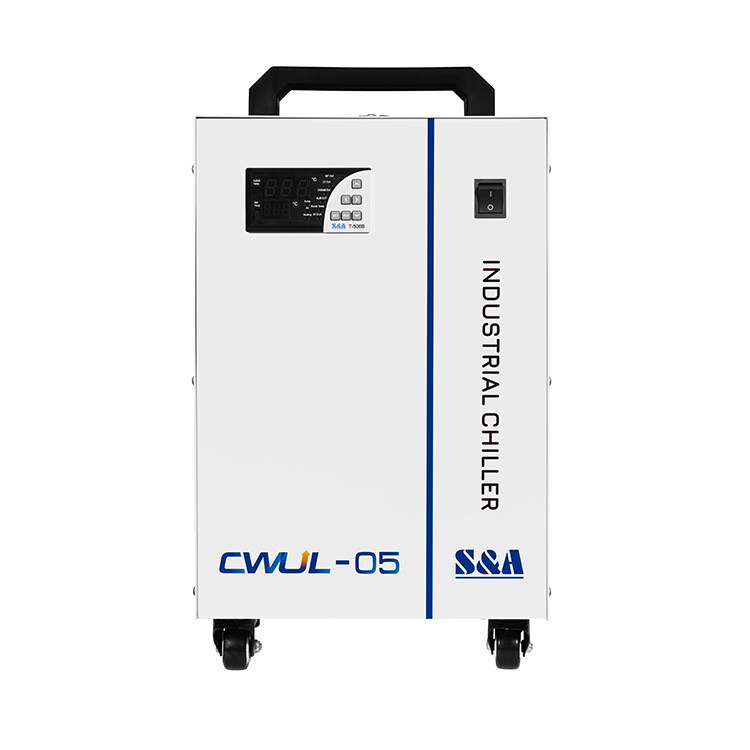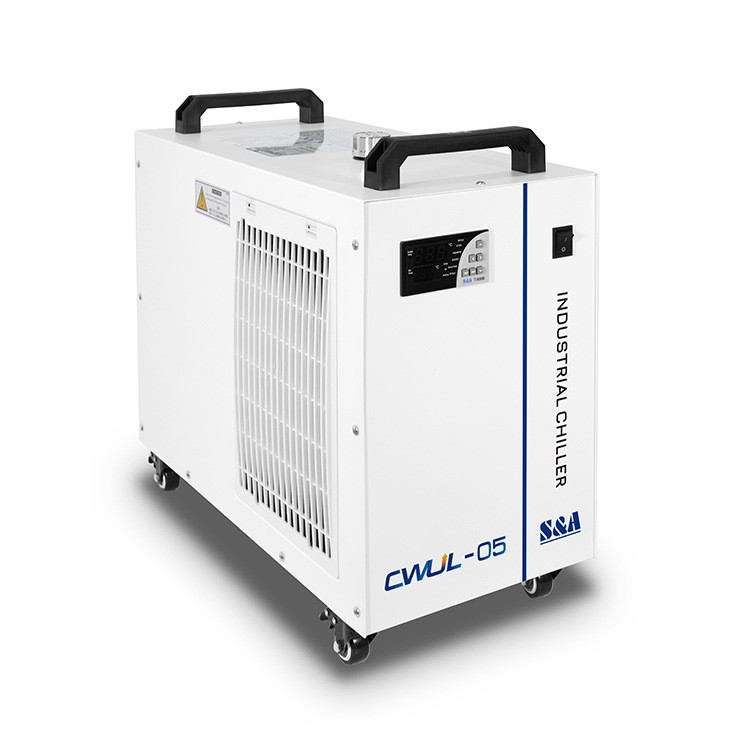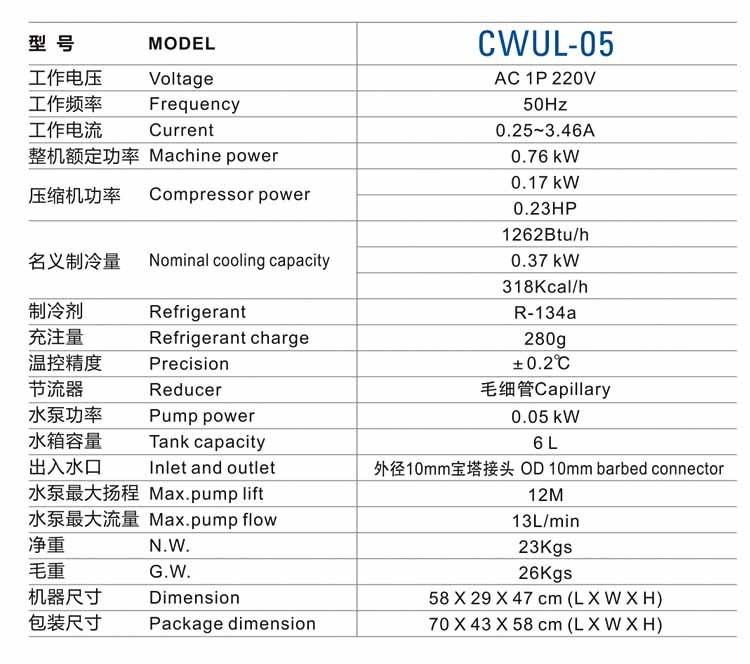 Title Water cooled refrigerant for laser industrial inkjet printer

The cwul-05 chiller produced by our company has a refrigerating capacity of 370W, which is suitable for cooling 3w-5w UV solid-state lasers. Therefore, it is also called UV laser chiller. At present, common brands of UV lasers include huaray laser, rfhlaser, inngu laser, JPT, Delphi laser, Newport, inno laser, gklaser, etc. Cwul-05 chiller has two working modes of constant temperature and intelligent temperature regulation, and the temperature control accuracy can reach ± 0.2 ℃. Moreover, the chiller has compact structure, small volume and convenient movement. Including output signal control function, cooling water flow, high and low temperature alarm and other functions.


Cwul-05 water chiller is deeply loved by UV users because of its strong stability. As we all know, the higher the accuracy of the chiller, the smaller the water temperature fluctuation, the more stable the laser output; The stability of the quality can prolong the service life of the laser and help users reduce the use cost, which is the original intention of win-win cooperation between teyu and customers.

As a 3w-5w UV solid-state laser cooling system, special field chiller cwul-05 is often used in film etching, fine marking, glass marking, material micro processing, wafer cutting, 3D printing, laser rapid prototyping, food packaging marking and other industries.



Main features of cwul-05 UV laser water chiller:

(1) Main parts: the compressor of a brand-new imported well-known brand is safe, environmentally friendly, power-saving and durable.

(2) Spare parts: most of them adopt the original products of "special domain s&a", with various types and configurations, stable working performance and long service life.

(3) Function:

1. The refrigerating capacity reaches 370W, and environmental friendly refrigerant is used


2. Small size, long life and durability, simple operation;


3. The temperature control accuracy can reach ± 0.2 ℃;


4. The intelligent temperature controller of laser chiller has two temperature control modes, which are suitable for different applications; There are various settings and fault display functions;


5. It has a variety of alarm protection functions: compressor delay protection; Compressor overcurrent protection; Water flow alarm; Temperature over high / low alarm;


6. Multi Country Power specifications, ce\rohs, reach certification;


7. Optional heater and purified water configuration.