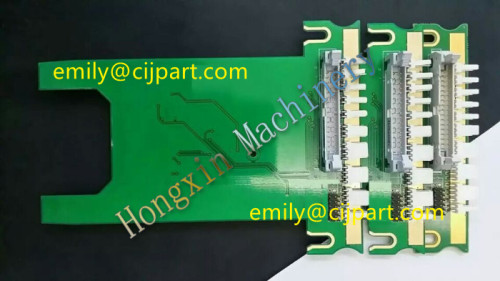 Imaje 9018 9028 cracked board
Description
with our 9018 9028 cracked board,no ink ,make up part number restrictions,ink core still 6000 hours,will not affect cleaning Imaje inkjet printer,either not affect printer warranty.
How to install ?
Answer: One side connect the printer ,one side is connect the ink core ,after install , no need to consider the ink part number ,or the make up part number ,long-term working time ,no need to consider 6000 hours .If you take down the cracked board, Imaje inkjet printer still calculate the ink core time from the time you install the cracket board .
Engineered to bring you the innovation you deserve with the simplicity you require, the Markem-Imaje 9028 will facilitate daily operations and save you time!Thanks to its innovative, all inclusive M6' ink circuit, your production will never stop for 2 full years*. Easy to change, the M6' can be clicked-in and clicked-out in less than 6 minutes and with no specialized tools.
Also, its new innovative cartridge system and associated ink offer (MEK-free and permanent ink) make set-up automatic and clean, optimizing your operators' time and your overall production uptime.
With its straightforward design, the 9028 is ready to print minutes after your purchase even in the harshest environments.