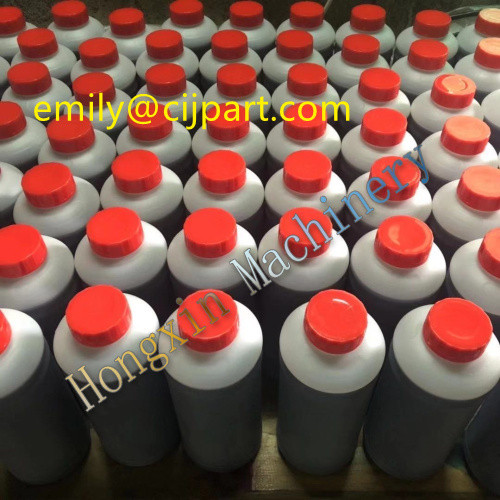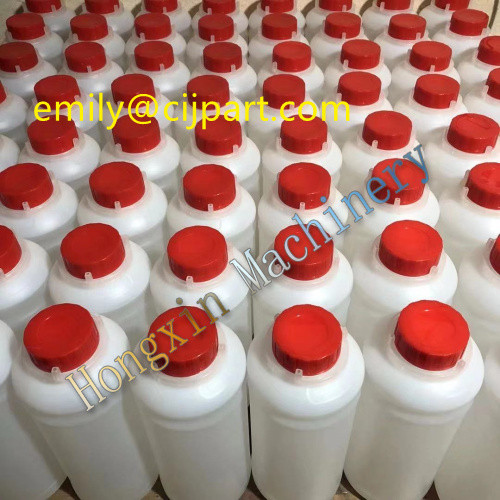 High Quality Continue inkjet printer willett printer 1000ML make up solvent
Model

willett industrial inkjet printer make up
Description
Hongxin Machinery Co,Ltd supply you high quality Industrial inkjet printing ink and make up ,
you can save lots of machine repair time and no need to change the ink filters so frequently.
With high quality ink and make up ,have less damage to the printer.
OEM service:
For big quality ,we can help you put on your company lable with your company logo.

Willett inkjet printer printing make up, we also call it as ink additive / solvent is transparent liquid and mainly made up of butanone.
It is used to adjust the viscosity of inkjet printing ink and improve ink working function .

There are lots of solvent numbers ,you can choose the corresponding ink additive according to the ink model.
201-0001-601 1L willett printer ordinary ink

201-0001-701 1L willett printe common solvent

201-0001-417-1l willett printe solvent

201-0001-702-1l / 5L willett printe general cleaning agent

201-0001-630 1L willett printe ordinary ink

201-0001-730-1l willett printe ordinary solvent

201-0001-401 1L willett printe common solvent

201-0001-012-1l willett printe plastic ink

201-0001-422 1L willett printe plastic solvent

201-0001-684-1l willett printe alcohol resistant ink

201-0001-484-1l willett printe anti alcohol solvent

201-0001-421-1l / 5L willett printe anti alcohol solvent

201-0001-628-1l willett printe anti migration ink

201-0001-728-1l willett printe anti migration solvent

201-0001-649-1l willett printe anti migration ink

201-0001-746-1l willett printe anti migration solvent

201-0001-643-1l willett printe anti migration white ink

201-0001-085-1l willett printe anti migration white ink

201-0001-417-1l willett printe anti migration white ink solvent

201-0001-638-1l willett printe invisible ink

201-0001-738-1l willett printe hidden solvent

201-0001-682-1l willett printe abrasion resistant ink

201-0001-482-1l willett printe wear resistant solvent

201-0001-020 1L / 5L willett printe water based typewriter ink

201-0001-019-1l / 5L willett printe water based cleaning agent for typewriter

201-0001-801 1L / 5L willett printe oily typewriter ink

201-0001-815-1l / 5L willett printe oily typewriter ink

willett printe 1L domestic typewriter ink

201-0001-802 1L / 5L oily willett printe cleaning agent for typewriter

Universal cleaning 1L / 5Lwillett printe oil based cleaning agent for typewriter

willett printe Mixed base cleaning agent 1L / 5L

willett printe 1L large character alcohol based ink

willett printe 1L ﹣ big character alcohol based cleaning agent

willett printe 201-0001-759-1l acetone based solvent

willett printe 201-0001-760-1l acetone based cleaning agent

willett printe 201-0001-606 1L green ink

willett printe 201-0001-603 1L red ink

willett printe 201-0001-402 1L red ink solvent