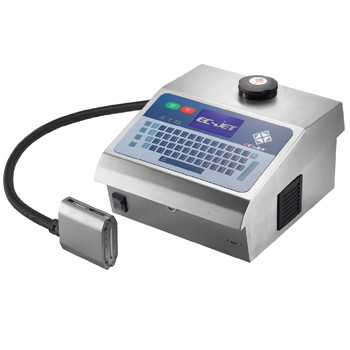 Code-ECD307 inkjet printer(three 7 nozzle)
Description
EC-JET DOD large character inkjet printer is easy to code for a variety of industrial applications designed for high-speed, cost-effective large character inkjet printer. Advanced design
◆ machine played tight design, compact device, the machine can achieve 4-line printing.
◆ Proprietary continuous ink design, no external gas source, without downtime ink, maximize productivity.
◆ remote control function, you can easily operate the equipment in the officeAdvanced performance
◆ standard USB interface, can quickly restore / backup data pattern storage.
◆ dual trigger design, perform multi-tasking print.
Technical parameters
---
ECD307

Detailed parameters

Memory Capacity

Memory storage up 200 pieces

Up to 1600 characters per storage※

12dot,16dot matrix of characters

Up to 2400 characters

Support7,9,12,and 16 dot English characters and digits

Upgrade special characters according to customer' s request

32X2048 graphic dot matrix and communicate with PC to change printing text are available

Standard Interface

Photocell / synchronized interface

USB

Interface to external alarm

RS-232

Physical features

Industrial-grade stainless steel

Installation

台式

Continuous ink supplying, free of external air source

Operating temperature

5-45°C

Power supply

AC100-240V 50/60Hz

Power

150w

Parameters

Printing lines

4 lines※

Print head quantity

Up to 2 print head (16 dot)

Printing height

8mm-64mm (16dots print head)

Printing distance

5mm

Printing speed

100m/min

Printing direction

horizontal and vertical

Printing functions

Time (accurate to the seconds)

Date (any combination format)

External communication and remote control function

Capable of printing on two different production lines simultaneously

Up to 32 bit serial number

Logo

Asian pinyin characters input capable

Inteligent picture conversion capable
※based on 7 dot English character