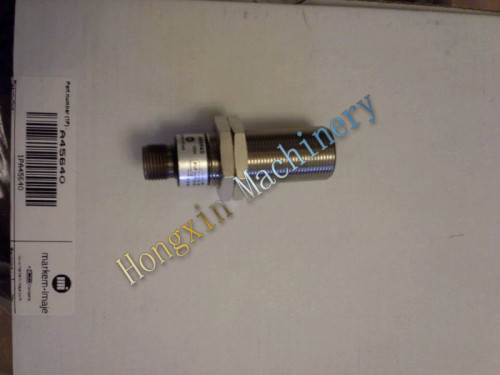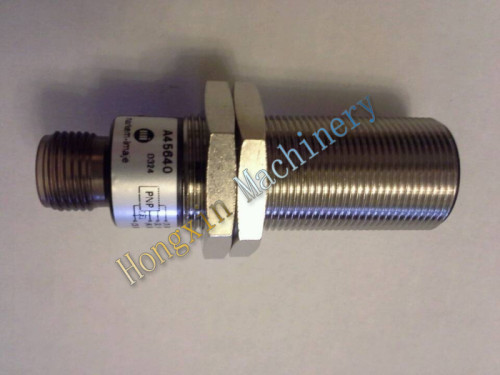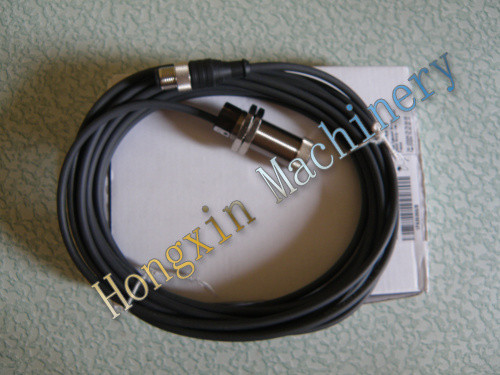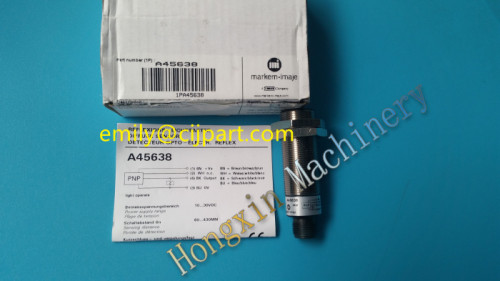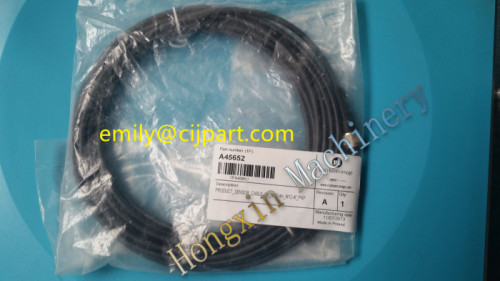 A45638 A45640 45642 Imaje connector for 9020 9030 Inkjet printer
Description
Part Number:A45640
Description : connector

Suatible for : Imaje Inkjet printer 9020 9030 9040 S4 S8 S8C2
Quality: new original
A45642+A45638= A35355 A35355/B PROXIMITY CELL WITH CONNECTOR

A45638 A45640 this is part number for connector
A45642 this is part number for cable.
Parts are the same ,but part number is update.Pls check the picture to see what you need .
Why choose us

1: Professional, our engineers have more than ten years of experience in maintenance

2: A good supplier channels, large inventory, timely delivery
3
:
with international
courier company
DHL, Fedex, UPS
has established
good cooperative
relations
,
to
express
to the client
cheap
shipping.
Hongxin Machinery Co.,Ltd supply you high quality with competitive price for following industrial ink jet printer parts: Ink Jet Filter,Cij Compatible Filters,Cij Willett Filters,Cij Hitachi Filters, Cij Videojet Filters,Cij Citronix Filters, Cij Linx Filters,Cij Compatible Spare Parts,Sealing Machine,Aluminium Inductive Sealer Machine, small character ink, industrial ink jet ink,continuous ink jet ink ,DOD ink,cij ink,cij make-up, cij solvent, cleanning solution,ink jet compatible consumables,Printing Ink & Paint Raw Material,Plastic Container,Ink Cartridges,Blank Bottles for Domino,Willett,Videojet,Linx,Imaje,Hitachi,EBS,Metronic,Critronix continuous inkjet printer machine.We have many qualified administrating, technology and processing staff. Our goal is to offer various high quality products to the global purchasers.We are expert in international trade for many years, while our products have been sold to many countries and districts, including European, America, Japan, and so on.
For more Markem Imaje parts,plz feel free to contact us .
A10413
Accessory
EYEGLASS BIFOCAL MAGN. X12
放大镜

x 12

倍

A10530
Accessory
CODER WHEEL 200 MM
同步器连接靠轮(凸)

200mm

A10864
Spares
Pump Dry head
吹气球
A11007
Spares
Beaker 250 ml
烧杯

250ml

A11169
Accessory
CODER WHEEL 200 MM (PLASTIC)
同步器连接靠轮(平)

200mm

A12027
Accessory
SCREWDRIVER-2.5X50
回收槽一字螺丝刀
A13939
Accessory
BRUSH-ANTI STATIC-LG 70
防静电电刷
A16468
Accessory
REFLEX PHOTOCELL
反射式传感器
A16469
Accessory
PROXIMITY PHOTOCELL
新传感器(光电转换部分)
A16470
Accessory
OPTIC FIBER
新传感器(光纤部分)有金属管保护管
A16601
Accessory
IP65 HEAD PROTECTION KIT
IP65

喷头保护组件

A17538
Accessory
Safety kit
安全套件
A17796
Accessory
Air blade kit
6

英寸风刀

(

帘)-驱除被喷印表面的水或喷后干燥

A17955
Accessory
Safety Glasses
安全保护眼镜
A27831
Accessory
SUITCASE - USER
9040/S8C2

工具箱

A28453
Accessory
GROUND BRAID FIXING
支架接地辫
A34598
Accessory
Blowing Kit
吹风套件
A35188
Accessory
SENSOR FIBER E32-DC200F
欧姆龙毛细光纤
A35355
Accessory
PROXIMITY CELL WITH CONNECTOR
传感器(带接头)
A35356
Accessory
ENCODER 5000PTS WITH CONNECTOR
同步器

5000pt

(带接头)

A35433
Accessory
REFLEX CELL WITH CONNECTOR
反射板式传感器(带接头)-激光机可用
A35452
Accessory
PROGRAM.ENCODER WITH CONNECTOR
脉冲可调同步器

/2500

-

40000pt

(带接头)

A35514
Spares
FESTO FILTER
FESTO 过滤器
A35520
Accessory
PRINTHEAD HOLDER FOR ALUMINIUM STAND
喷头微调支架
A35534
Spares
FILTER KIT EXTERNAL
外部空气过滤器组件
A37370
Accessory
Sensor NPN, Diffuse Reflective, 300 OMRON
NPN漫反射的光纤传感器, 300 SD, OMRON
A37371
Accessory
Sensor NPN,Through Beam, 220 OMRON
NPN 透过光束传感器. 220 SD, OMRON
A37372
Accessory
Sensor NPN , OMRON, Diffuse Reflective, 1m SD
NPN 漫反射的光纤传感器, 1000 SD, OMRON
A37373
Accessory
Sensor NPN ,OMRON, Through-Beam 15m SD
NPN 透过光束传感器, 15000 SD, OMRON
A37374
Accessory
Encoder 500 PPR
旋转编码器 500脉冲(欧姆龙)
A37375
Accessory
Encoder 2000 PPR
旋转编码器 2000脉冲 (欧姆龙)
A37376
Accessory
Sensor PNP , Through Beam, SICK 90 SD
PNP透过光束传感器, 460~26002

SD, SICK

A37377
Accessory
Sensor PNP, Proximity, Sick 460/2000SD
PNP 近接光纤传感器, 90 SD, SICK
A37378
Accessory
Sensor NPN, SICK, Contrast Scanner, 10mm
NPN 色差传感器, 10+/-0.3 SD, SICK
A37379
Accessory
Sensor PNP, SICK, proximity switch,
PNP 近接传感器, 30~200 SD, SICK
A37380
Accessory
Sensor PNP , Diffuse Reflective , KEYENCE,
PNP漫反射的光纤传感器, 125~700 SD, Keyence
A37381
Accessory
Sensor PNP, Through Beam, KEYENCE,
PNP 透过光束传感器, 300~1700 SD, Keyence
A37382
Accessory
Sensor PNP Diffuse Reflective, KEYENCE
PNP 漫反射的光纤传感器, 32~200 SD, Keyence
A37383
Accessory
Electronic meter counter
电子计数器
A37386
Accessory
Electronic meter counter
高速计米器
A37388
Accessory
Alarm Beacon RYG 9000/7000 series
报警灯包含M12接头(配9000,7000)
A38388
Accessory
COUPLING HOMOKINETICS DIAM.6
同步器软连接耦合器
A39615
Accessory
Air filtration
空气洁净器 (与白墨机)
A39618
Accessory
Encoder bracket for OMRON encoders
同步器支架

(与

欧姆龙同步器相配)

A39619
Accessory
Encoder wheel for OMRON encoders
同步轮

(与欧姆龙同步器相配)

A39620
Accessory
Sensor bracket, M20, M10, M6, M4
传感器支架

, M20, M10, M6, M4

A39621
Accessory
RS232 connector for Smartlase
RS232

连接器 (与SL110i 或130i连接件)

EN10012
Accessory
ONE AXES HEAD ADJUSTMENT KIT
单维喷头微调装置
EN10013
Accessory
FIXED HEADS FIXING KIT
喷头支架端片-

维修位置

EN4735
Accessory
HEAD ADJUSTING BRACKET 2 AXIS
两维喷头微调装置
EN5343
Spares
SCREWS FOR HEAD AND CONDUIT
支架上喷头喉管夹
EN5385
Accessory
SOLVENT VAPOR CATCHER ACCESS
S7

气体吸收装置

EN5915
Accessory
TWO AXES HEAD ADJUSTMENT KIT
两维喷头调节装置组合
EN5924
Accessory
KIT SOUND ALARM 110/220 VAC
报警器(铃)
EN5988
Accessory
S7 MACHINE MOUNTING PLATE SUPPORT
S7

喷码机支架安装后板

EN6367
Accessory
TACHO SUPPORT
弹簧摇臂同步器支架组件
EN6450
Accessory
TRAY RECOVERY-CLEANING SOL
维修用废液回收装置
EN6637
Accessory
SUPPORT RETRACTABLE HEAD
摇臂喷头固定支架
EN6961
Accessory
GROUND BRAID FIXING
支架接地辫
ENM11137
Spares
BRUSH HEAD CLEANING
毛刷(用于油墨

5117

及

S4SI

油墨

)

ENM11166
Accessory
CODER FIX BRACKET PA16656/1414
同步器支架(定位)
ENM14434
Spares
TOOL-SCREWING HEXAGONAL CANNON
拧喷嘴下螺帽的扳手

(6

角型

)

ENM4261
Spares
SCREW(X20)-INOX CHC M 3 X 12
不锈钢螺丝

M 3 x 12

ENM4335
Spares
SCREW(X20)-INOX CHC M 4 X 10
不锈钢螺丝

M 4 x 10

ENM4491
Spares
GLOVES LATEX-LABEL CE-(X20)
保护手套

(

x20)

ENM5932
Spares
TOOL-ORIENTATION CANNON G/M
喷嘴调节针
ENM6317
Spares
CLEANING FLASK 250CC
喷壶

250cc